Wireless Sync option
A built-in chip to synchronize the work of both (or more) poi between each other. You click a button on one poi - the other poi follows the command.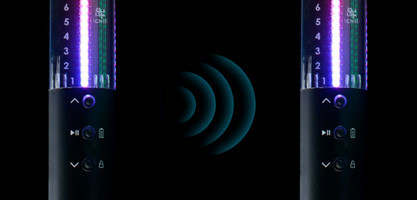 Due to the high season, production time of pixel props takes 4-6 weeks. Please reach us out if you need the product urgently
Wireless option for sync start and full remote control
Easy to use. Any digital poi and all other pois are launched together by wireless radio control
This option is useful for sync start with the music if you have 2 sets of poi or more. Doublestaff and Dragon Staff have this option included
Full sync control: control all the devices using only one of them
Hi-range remote control unit (up to 300 m) for big stages – sold separately.

Watch how sync start works
Frequently asked questions
We give 2 years warranty for all models, 30-day moneyback period and free technical services including free repairs during warranty period. If there is something wrong with your props, please get in touch with our support team by email: support@ignispixel.com
Can I transform poi into a staff/nunchaku?
All models are convertible. Short poi (32Tech, 48Lite, 80HD Tech) can be used a nunchaku, just change the loop. Attach poi to a staff connector and you get a staff.
Best performers choose Ignis Pixel




Not sure which model to choose?
We will gladly give you more info online, by email, by phone, or any other way that's convenient for you
Choose your preferred way of communication