Ignis Boomerang 32 HD
Superbright LED boomerang that draws pictures, plus flying stats and graphics upload from mobile app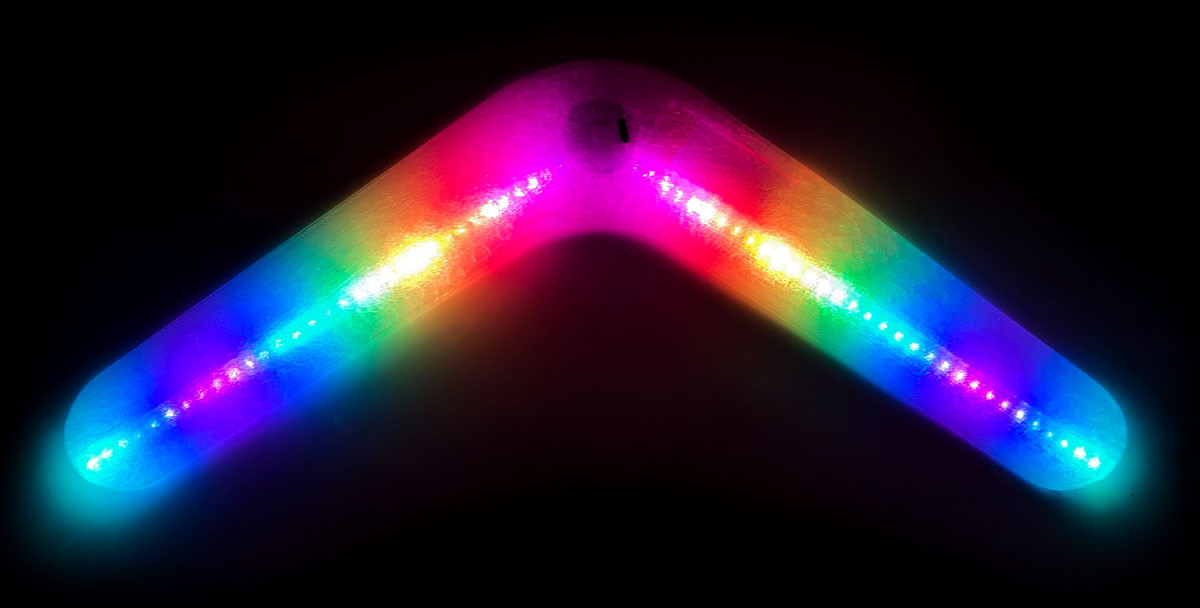 Experimental product is made to order
Description This is a BETA version of the product. In the end it needs to be flawless and we need your professional advice and experience to improve this product. For sure, it will help to excite and wonder your viewers even more! Participate in developing, testing, and upgrading the product, using our special price for Beta version.

The first LED graphic boomerang for outdoor activity. Draws stunning pictures while flying.

Brightness definitely surpass your expectations! Pixel Boomerang 32 HD has 64 superbright addressable RGB LEDs create visible pictures in flight

Upload your pictures, texts, emojis, logos, patterns and effects directly from your phone in the Ignis Pixel app.
The app also makes your phone a remote controller for your boomerang: switch pictures at a distance right from your phone. Ignis Pixel app is available for Android and iOS.

Smart Boomerang has:
- Training statistics in the mobile app: throw speed and rotational speed of each throw*, training time, flight time, number of throws, spins.
- Image stabilization: retains width and position of image on flying boomerang independently of spinning speed. Makes amusing illuminations when boomerang is not flying.

*Training statistics are still in beta and may not be accurate. This feature will be improved with firmware updates over-the-air.
Technical characteristics
Resolution: 32 pixels (64 LEDs)
Length of LED part: cm ('')
Weight: 36 g (1.27 oz.)
Working time: 1h average; 6 min full white; up to 5h low brightness
Number of colors: 16,7 million (Color depth 24 bit)
Battery capacity: 300 mAh
Weight of single knob: g ()
Diameter: 25 cm (9.8'')
Charging time: 1 hour
Thickness: cm ('')
Frequently asked questions
We give 2 years warranty for all models, 30-day moneyback period and free technical services including free repairs during warranty period. If there is something wrong with your props, please get in touch with our support team by email: support@ignispixel.com
Best performers choose Ignis Pixel




Not sure which model to choose?
We will gladly give you more info online, by email, by phone, or any other way that's convenient for you
Choose your preferred way of communication